Select Your Territory / Region: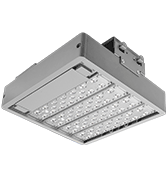 GEMINI-C
The Gemini-C Series provides exceptional reliability and performance using advanced LED technology. This luminaire is easily mounted using a surface mount bracket and has been nationally lab-tested in accordance with IES standards. The Gemini-C is also highly resistant to shock and vibration and provides instant-on and instant re-strike performance.
44D021 C2C18B65592449A38C09790EEAE62484TX7.PDF
Color Temperature:
3000K, 4000K, 5000K, 5700K
Housing:
Voltage:
120-277V, 347-480 VAC (optional)
Wattage:
30W, 60W, 90W, 120W, 150W, 180W, 210W
Optics:



You must log in to add this fixture to a project!