Select Your Territory / Region: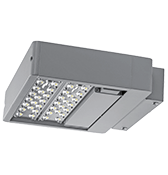 GEMINI-W
The GEMINI-W Series is available from 30W-120W. This luminaire has been nationally lab tested in accordance with IES standards. The GEMINI-W has a calculated life of over 100,000 hours and is available with a wide arrange of beam angles for specific user needs. This luminaire is highly resistant to shock and vibration and provides instanton/instant-restrike performance. Comes with 10kV surge protection standard.
44D021 5E2C17DFAA1A40159507ED15E41F6448GUQ.PDF
Color Temperature:
Housing:
Voltage:
120-277V, 347-480 VAC (optional)
Wattage:
30W, 60W, 90W, 120W, (120-277V)
Optics:



You must log in to add this fixture to a project!