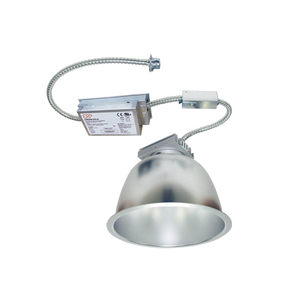 LED-ARFK9-G2
The LED-ARFK9-G2 is an Architectural grade, Non-IC, LED Recessed Downlight Retrokit and is available with multiple Trim Modules. It is designed for use with existing Lum-Tech 9" Architectural Incandescent, Fluorescent and Metal Halide Housings. It is also compatible with most 9" architectural housings measuring at least 8-5/16" high with an inside diameter between 9-1/2" and 10" (See Housing Compatibility section). Available with a 10W, 14W, 22W, 32W or 44W high efficacy LED engine and universal, dimmable drivers. The optical diffuser produces high lumen transmission and even illumination. Suitable for Wet Locations.
LED ARFK9 14 3000K CREE 4OYG.ZIP
LED ARFK9 23 3000K CREE 4TOJ.ZIP
LED ARFK9 23 4000K CREE 40LG.ZIP
LED ARFK9 30 3000K CREE 4FTH.ZIP
LED ARFK9 30 4000K CREE 4IR7.ZIP
LED ARFK9 45 3000K CREE 418H.ZIP



You must log in to add this fixture to a project!