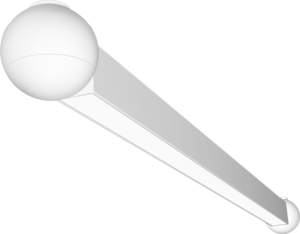 ORBIT Series
ORBL-23 is a unique linear suspended system that allows for the creation of grids of light in either direct or indirect distributions. Orbit features a specially designed node, or "Orbit" that easly allows for the connection of linear sections at right angles to one another. Create squares, rectangles or open patterns of any length to 8′ per side. An interesting and functional aesthetic for use in office, retail and municipal applications.
Lamp:
LEDLED modules in 80/90 CRI @ 3 SDCM, minimum L70= 50,000 hours. Zhaga complaint, field replaceable.
Optics:
LED optimized acrylic (ACR) lens for maximum efficiency.



You must log in to add this fixture to a project!