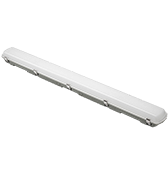 VESPA
The VESPA Series features a non-corrosive polycarbonate lens (PC) with stainless steel hasps and clips. This luminaire has a life span of over 100,000 calculated hours and uses hermatic sealing. The fixture provides a high efficiency frosted diffuser with advanced optical design to generate uniform light distribution with glare-free lumination. The VESPAcan be mounted in 3 different ways and is applicable for garages, warehouses, stations, tunnels, etc.
44D021 28782A95E640446DB42AC3C693EFEE60POU.PDF
Housing:
Cold rolled steel housing, Aluminum
Wattage:
20W, 24W, 40W, 60W, 80W, 120W
Color Temperature:
3000K,4000K, 5000K, 6000K
Optics:
Voltage:



You must log in to add this fixture to a project!